I have often been asked how Litigation Help came about. Many years ago, my husband and I were involved in a lawsuit. I remember the day we received the judgement. It should have been a day of celebration. Instead, I felt rather sad. The legal system simply does not work the way I thought it did. I recognized that access to justice was dependent on economic means, which to me, just simply should not be so! In addition, I felt a need to share what I learned about litigation: what litigation truly is about, from my perspective as a client, a self-represented litigant, and a fresh-out-of-school lawyer! I felt public legal education (PLE) should not just teach procedural "how to's" to self-represented litigants. PLE should include education for litigants in general, whether represented or not. It should include foundational concepts in our common law system. It should include information on unbundled services. It should inform the public about out of court options, such as collaborative family lawyering, mediation and arbitration. After a lot of encouragement from my colleagues and supporters, I started Litigation Help, which is a project completely dedicated to public legal education.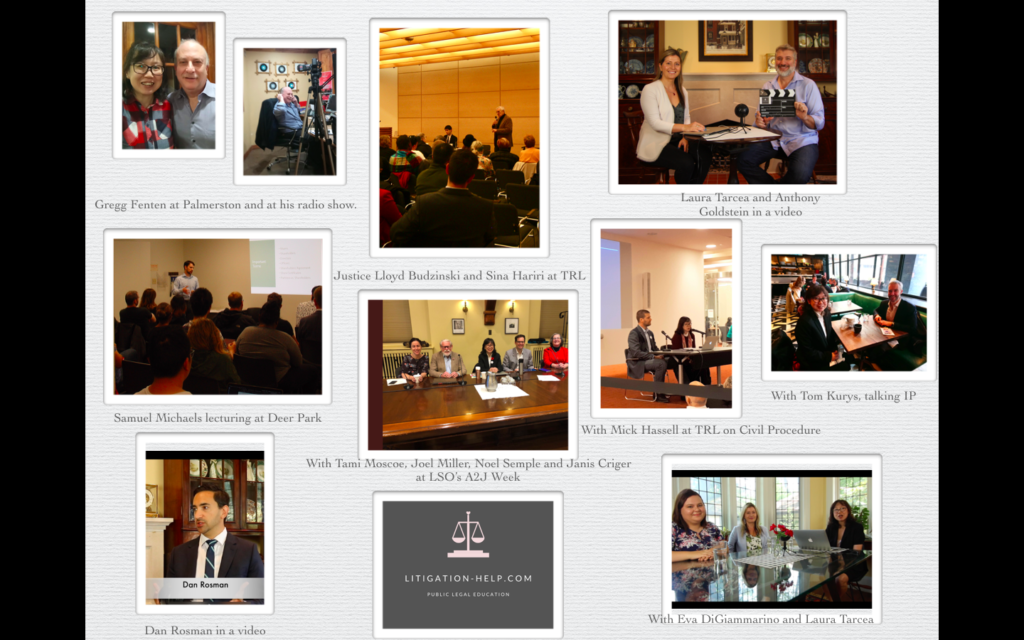 This past year has been full of progress for Litigation Help. Not only have we have appeared at numerous talks at various Toronto Public Library branches, https://litigation-help.com/library-talks/ we have launched our own Youtube Channel https://youtu.be/2T-y_His5Fs. Our topics cover family and civil litigation, as well as what mediation is all about. The collage above includes highlights from our year's work. I am tremendously proud of the work we have done!
I want to thank Eva Di Giammarino, Samuel Michaels, Dan Rosman, Anthony Goldstein, Mick Hassell, Sina Hariri and Justice Lloyd Budzinski for participating in the talks and appearing in the videos this year.
I am excited that Tom Kurys (IP Law) and Heather Douglas (Civil Litigation) will be joining us in this project in 2020.
Finally, I want to especially thank Gregg Fenten and Laura Tarcea. You have given so, so much of your time, not only to my projects, but to helping others. You have taught me so much! You are truly my inspiration.
Wishing everyone a peaceful holiday season.