If you have text books or books on the legal subjects that you no longer need, how about listing them for donation here, so that others can enjoy your book?
I am starting a virtual book shelf, devoted to books on legal subjects (or DVD's and CD's), right here at Litigation Help. This way, we can all help each other out by donating or exchanging books we no longer need.
(A) CORE LIBRARY
I have created a "core" library of titles that you can borrow. This is only available in the Greater Toronto Area. Pick up location will be at Brentwood Library (west Toronto, near Royal York subway station). (We can arrange for a time to meet.) As these are from my own collection, I would like to have them back when you are done with them, or until someone else wants to borrow them. As such, I would require you to leave me with you phone number or email address.
Please contact me at hh@litigation-help.com directly if you would like to borrow these books.
Books for borrowing
The Happy Lawyer. Nancy Levit and D. Linder. 2010
Introduction to Law in Canada. John Fairlie and P. Sworden. 2014
Family Law : Practice and Procedure. J. Kurtz. 2010. Although there are more recent editions, there are still a lot of sections that are very useful. (One month loan ONLY)
Journey to Justice. D. Barrie. 2015. This is a great book by Denice Barrie for self-represented litigants. (One month loan ONLY)
McGregor on Damages. 1972.
Legal Liability of Doctors and Hospitals in Canada. 4th Ed. E. Picard and G. Robertson. 2007
Watt's Manual of Criminal Evidence. David Watt. 2014
The Law of Search and Seizure in Canada. J. Fontana and D. Keeshan 2010
Injunctions and Specific Performance. R. Sharpe. 1983.
Practitioner's Guide to Estate Practice in Ontario. 4th ed. M. Rintoul. 2004
The 2019 Annotated Copyright Act. N. Tamaro
New titles will be added in the next few months. Follow us on Facebook! https://www.facebook.com/litigationhelp
(B) BOOK EXCHANGE
If you would like to donate books, please post a comment in the comment box below. These fields are mandatory: Title of book, author(s), date of publishing, your name and email (contact). A person who is interested in the donation will make arrangements with the donor directly to pick up the book(s).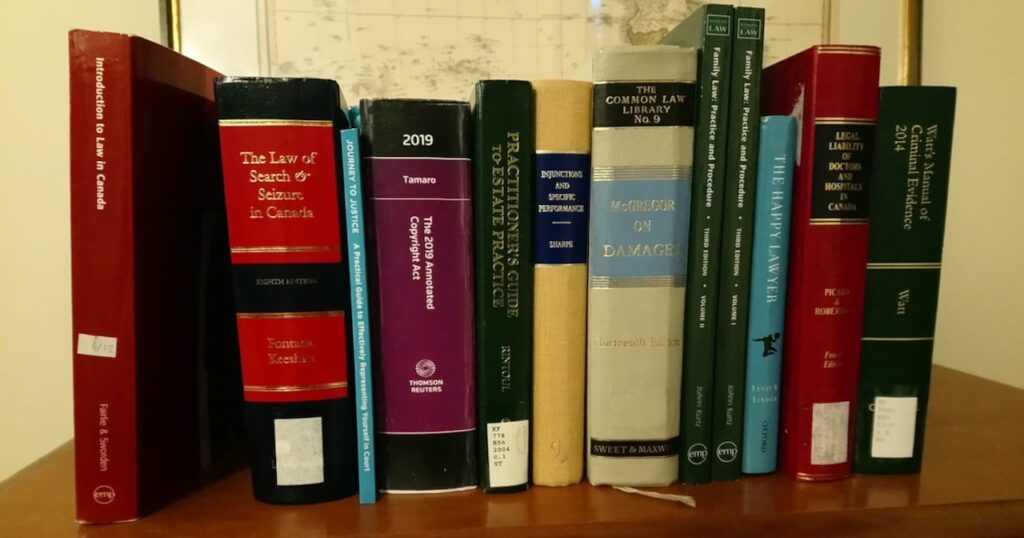 Many thanks to Jenny Bilas, J.D. Candidate 2022, Osgoode Hall Law School, Co-President of Mature Students Association for helping me launch this initiative!