Public Legal Education
Many people go through lawsuits not knowing very much about the law, or how the legal system works. After all, you trust your lawyer to guide you through everything.
But what happens if you run out of money, and must go through the court system yourself?
If you understand even just the basics of how the court system works, your decisions will be that much more informed.
Litigation Help was created by Heather Hui-Litwin. She has been both a self-represented litigant, as well as a traditional client in a lawsuit before becoming a lawyer. She believes that all too often, people don't understand enough about the legal system works to engage in it efficiently. Litigation Help is created to address the public's gap in legal knowledge.
Access to Justice
"We have wonderful justice for corporations and for the wealthy. But the middle class and the poor may not be able to access our justice system." – Chief Justice Beverley McLachlin, University of Toronto conference, 2011.
If you are thinking of suing someone, or if you are being sued, you should retain a lawyer to represent you.  However, when typical hourly rates are often in excess of $300 per hour, retaining a lawyer could be an unaffordable luxury!
The inability to afford representation means many plaintiffs must live with the wrong they have suffered. Defendants are forced to give up, even when they have a meritorious defence.  For some, there is no option but to litigate on their own.
Even though it is a fundamental right to be self-represented, the reality is that the legal system is so complex that it can effectively preclude anyone from exercising this right, unless you have legal training.
Civil justice should be available to everyone, regardless of wealth. My goal is to improve access to justice for everyone, by promoting limited scope retainer service or unbundled practices to lawyers and litigants, as well as provide public education on litigation to everyone.
Heather's Story
Unlike most lawyers, my legal training began as a client. My husband and I were parties in a lawsuit.  We retained a lawyer initially.However, due to the mounting costs, we decided to represent ourselves. Although I was already a law student at that time, I found navigating through the legal system to be challenging.
As a result of this experience, I am determined to help others who are forced to represent themselves. I believe that one way to do this is to provide legal services on a limited scope retainer basis. What this means is that the client hires the lawyer to perform limited, discrete, well-defined tasks.  This way, the litigant could retain more control as to how much they want to spend in the litigation.
I discovered quite early during practice that law school does not teach you enough to be a fully effective lawyer! So, I co-founded an association of lawyers with the help of Mick Hassell, called the Self-Rep Navigators. The goal of this association is for mutual support of lawyers who offer limited scope services. We meet quarterly to discuss practice issues. These are lawyers who each provide some form of limited scope service. The areas of practice include family, civil, criminal and civil appeals. Many of them also provide full service, should the client requires. (Please note that this is an association, like the Ontario Bar Association or the Toronto Law Association, but much smaller! They are not a law firm. )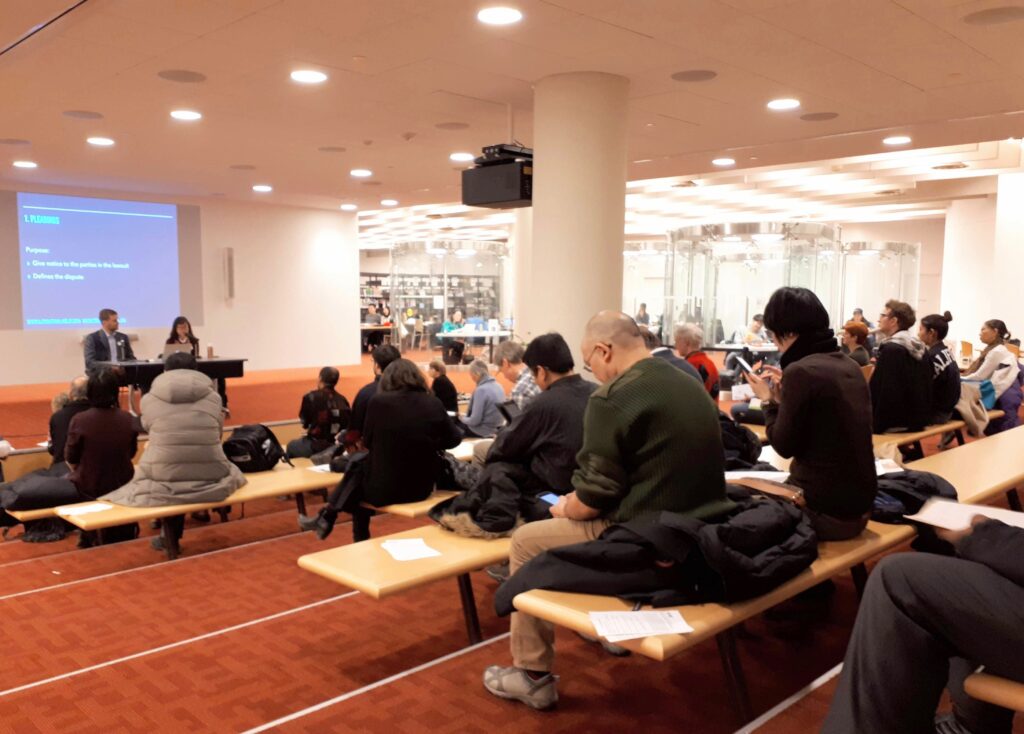 Acknowledgements
I'd like to thank a number of people, who have supported me in these projects. The very first person I'd like to mention is my friend, Blaine Horrocks. He has patiently listened to me talk about my lawsuit throughout the years. He is also the one who came up with the name "Litigation Help." He gave me the much needed support to start my career in access to justice.
I'd like to thank Mick Hassell, for working on building the Self-Rep Navigators Association with me. He has dedicated huge amounts of time to this project. In addition, he is great to work with in our two-tier approach to helping clients, where he is the legal advice lawyer, and I am the legal educator.
I think that my work would definitely not exist if it hadn't been for Gregg Fenten and Laura Tarcea. For a long time, I felt that litigation (or an adversarial process) is the only way to go for civil disputes. However, Gregg and Laura educated me on what mediation is. Adversarial processes, whether it's litigation at court, or even just plain fighting, tend to escalate conflict. Mediation is often overlooked by parties in dispute. Thanks to Gregg and Laura, I begin to realize that an obsession to see the world in right and wrong, black and white, and assuming it's a zero sum game, holds us back from progressing in our relationships, and in growth as a person. Thank you, Gregg and Laura, for opening my eyes!
The project has since grown quite a bit! I have worked with Heather Douglas all year in creating series of videos that covers the basics in civil litigation. We continue to be invited by the Toronto Public library for webinars. Many thanks to our contributors: Samuel Michaels, John-Paul Boyd, Eva DiGiammarino, Thomas Kurys and Dan Rosman. We are excited that new speakers will be joining this list in 2021, including Janis Criger (Small Claims court judge) and Helena Birt (Family Law Limited Scope Services project).  
Finally, we want to thank you for your support. Keep us inspired by sending feedback to us, or subscribing and sharing our videos and this website! Together, we can make a positive difference!
—-Heather Hui-Litwin
https://www.youtube.com/c/LitigationHelp